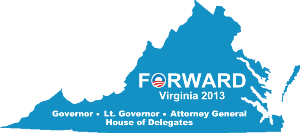 The 2013 Virginia off-year election will be held for Governor, Lt. Governor, Attorney General, and House of Delegates. After January 1, 2013 candidates will get signatures on "petitions of qualified voters" to be on the ballot.
June 11, 2013 – Primary Election (Democrats; GOP will have a convention May 17-18, 2013 in Richmond)
November 5, 2013 – General Election
Declared Democratic State-Wide Candidates for 2013 
   ** last updated 12.8.2012
Governor
Lt. Governor
Attorney General
Elections in Virginia – Yearly 
Virginia has a General Election every year on the Tuesday following the first Monday in November
Federal offices are elected in even-numbered years
State and Local offices are elected in odd-numbered years
If primaries are called by the political parties, they are held on the second Tuesday in June. 
Election Cycles
See comparison of recent and upcoming years, click here.
Off-Year 
Off-year elections refer to general elections in the United States that are held in odd-numbered years. These elections feature rarely any election to a federal office, few state legislative elections, and very few gubernatorial elections. In 2013 only Virginia and New Jersey will be electing Governors.
Mid-Term 
Midterm elections in the United States refer to general elections in the United States that are held two years after the quadrennial (four-year) elections for the President of the United States (i.e. near the midpoint of the four-year presidential term). Federal offices that are up for election during the midterms are members of the United States Congress, including all 435 seats in the United States House of Representatives, and the full terms for 33 or 34 of the 100 seats in the United States Senate. In addition, 34 of the 50 U.S. states elect their governors to four-year terms during midterm elections, while Vermont and New Hampshire elect governors to two-year terms in both midterm and presidential elections. Thus, 36 governors are elected during midterm elections. Many states also elect officers to their state legislatures in midterm years. There are also elections held at the municipal level. On the ballot are many mayors, other local public offices, and a wide variety of citizen initiatives. Midterm elections usually generate lower voter turnout than presidential elections. Only about 40 percent of those eligible to vote actually go to the polls in midterm elections.
Presidential 
The election of the President and the Vice President of the United States is actually an indirect vote in which citizens cast ballots for a slate of members of the U.S. Electoral College; these electors in turn directly elect the President and Vice President. Presidential elections occur quadrennially (the count beginning with the year 1792) on Election Day, the Tuesday between November 2 and 8, coinciding with the general elections of various other federal, states and local races. The next Presidential election will be held on November 8, 2016.