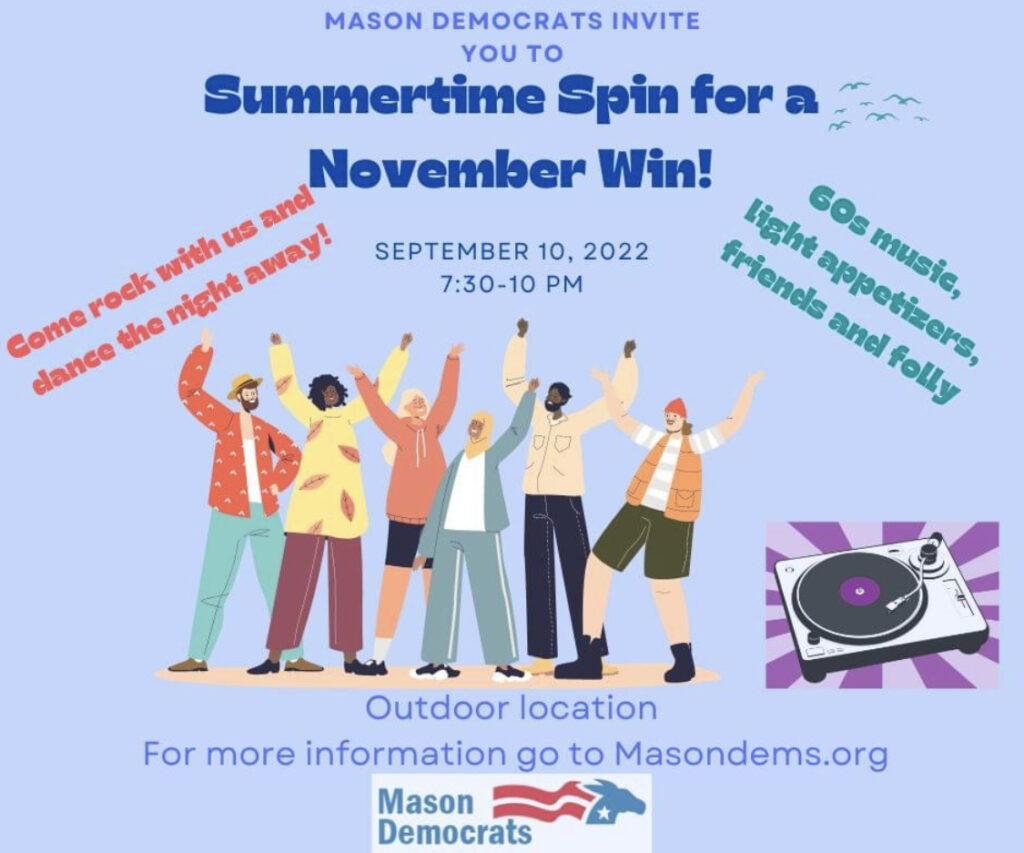 On September 10th (7:30-10pm), join your friends (or meet new ones) as we celebrate a past decade of peace, love and change.
We'll  "Rock around the Clock" and promise the "Good Vibrations" of the 1960s  as we "Twist and Shout."  You might even find some onion dip or Pigs in a Blanket. We promise dancing, conversation, light appetizers and adult beverages. We've even got a few 60s surprises for a raffle!
Tickets start at just $35 and will support our efforts this fall to elect Democrats.
Help us with our work and enjoy a great evening—outdoors—with friends.
1960s attire (tie dye, mini skirts, bell bottoms) is encouraged. (Finally, NOT cleaning out your closet is paying off.)
Rain date-September 11th. No refunds due to weather conditions.
We also need a few volunteers
Could you make a dip?
Or another 60s appetizer?
Can you help set up, clean up?
Please contact me at my email below for many more volunteer opportunities.
Click on the link for the Summertime Flyer MDDC …..or continue below for more information.
Mason District
Summertime Spin for a November Win
You're Invited!! 
Saturday, September 10, 2022, at 7:30 pm
(Rain date is Sunday, September 11; no refunds due to inclement weather)
Join us for light refreshments and 60s music by the Lake.
Bring your dancing shoes to enjoy the music of the 60s and support our Mason election efforts this fall.
At the home of Holly Hazard & Rick Clayton, 6322 Lakeview Drive, Falls Church, VA.
60's Dress Encouraged-tie dye, bell bottoms, peace necklaces, etc!!!
YES, I will attend the Mason Summertime Spin
 _____$35 Rocker for Votes
_____$50-I'm a Believer
_____$100-It's Now or Never (to Save our Democracy)
_____$250-Leader of the Pack
_____$500-Come Together
_____$1000-You can Pick Any Song You Want
Tickets will be held in name of purchaser at sign-in table.
For more information call Rachel Rifkind at 703-941-9574.
Pay online at https://secure.ngpvan.com/lElvPpPC_0Sd0OwbF5pXtw2
Name                                                                                                                                                                          
Address                                                                                                                                                                       
City                                                State                                              Zip                                                                  
Home Phone                                   Work Phone                                    Cell Phone                                                       
Email Address                                                                                                                                                              
Occupation                                                       Employer Name                                                                                   
Employer Address                                                                                                                                                        
Payment can be made by cash ($50 or less only), check payable to FCDC, or personal credit card. Campaign and company credit cards will not be accepted.
Total amount of payment                                                          
         I am paying by cash or check. Mail checks to: Fairfax County Democratic Committee, Attn: Mason District, 8500 Executive Park Avenue Suite 402, Fairfax, VA 22031
         I prefer to pay with my personal credit card:     Visa      MasterCard      American Express      Discover
Name as it appears on the credit card                                                                                                                  
Credit Card Number                                                                     Exp. Date                                                        
Signature                                                                                                               Date                                      
Your contribution may be used in connection with federal elections and is subject to the limitations and prohibitions of the Federal Election Campaign Act. Contributions that comply with the limitations and prohibitions of the Federal Election Campaign Act will be deposited into the FCDC Federal account, and unless otherwise designated for non-federal purposes, will be used in connection with Federal elections, and are subject to the above limitations and prohibitions. Other contributions will be deposited into the FCDC non-federal account. Federal and Virginia state law require political committees to report the name, address, occupation and employer of individuals whose contributions aggregate in excess of $100 and $200, respectively, in a calendar year.
Contributions are not tax deductible for federal income tax purposes.
Paid for by the Fairfax County Democratic Committee, www.FairfaxDemocrats.org, not authorized by any candidate or candidate's committee.