Join us for a virtual celebration of Democrats!
Sunday, September 13
Live from the comfort of your own home!
VIP Reception: 6 – 6:30 PM
General Reception: 6:30 – 8 PM
Join the Fairfax County Democrats for the Fourth Annual (and First Virtual) Jefferson-Obama Dinner. Even though we can't be in person, that doesn't mean we can't come together to reflect on our electoral victories in Fairfax County, celebrate our Democratic values, and rally behind the Biden-Harris ticket in the most important election of our lives.
Featuring
Congresswoman Jennifer Wexton
Congressman Don Beyer
Congressman Gerry Connolly
Awards Ceremony
…and more
KEYNOTE GUEST TO BE ANNOUNCED
Use the form below to indicate your ticket purchase.
Please note, you will be sent your log-on credentials for the event 24 hours before the start of the event.
This form is intended for individuals paying by credit card. To pay by check, complete this form and send with your check to: FCDC, 8500 Executive Park Ave., Suite 402, Fairfax, VA 22031. Non-federal campaign committees, corporations, LLCs, and unions must pay by check.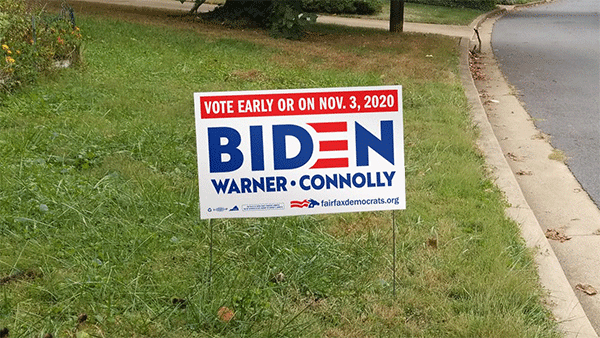 Fairfax Democrats have a lot to look forward to on November 3rd – from re-electing our three incumbent Members of Congress and sending Mark Warner back to the Senate (and hopefully into the majority), to showing Donald Trump the door and electing Joe Biden the 46th President of the United States. Show your neighbors that you support by ordering a sign today! Mason District has purchased these signs for you, however, we are always happy to receive donations. Click the "donate" button on the right hand side.
These signs are union-printed in the USA. Please contact Rachel or Rafael if you would like to order a sign.
Rafael Arancibia
(703) 869-3037 – cell
Rachel Rifkind
703-927-6290 – cell