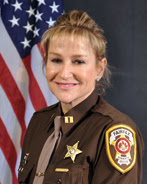 Sheriff Stacey Kincaid is under attack by Republicans for her courageous decision to terminate an agreement to detain inmates who would otherwise be released for US Immigration and Customs Enforcement (ICE). Fairfax Count y previously would keep inmates targeted by ICE for up to 48 hours beyond their release dates. The Sheriff will no longer keep inmates past their release date unless ICE provides a court-ordered criminal detainer. This action builds trust with immigrant communities, supports law enforcement, and is fiscally responsible. Of the 123 county and city sheriffs in Virginia, only one other jurisdiction has such an agreement.
The attacks on Sheriff Stacey Kincaid are led by such known hatemongers as U.S. Senate candidate Corey Stewart and are part of the overall Trump effort to use racist stereotypes and portray all undocumented immigrants as gang members. We need people to use social media as well as letters to the editor to push back against this messaging and thank Sheriff Kincaid. Please use the hashtag #StandwithStacey.
For more information and talking points, here is a  fact sheet  compiled by FCDC as well as a link to the FCDC press release .
You can view Sheriff Kincaid's response to the attack here: Sheriff responds to criticism of her immigration decision .